The David Cameron Gikandi Collection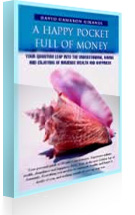 Discover proven scientific and spiritual evidence, tools and how-to information that will turn YOU into a powerful, joyful creator of your financial, health and relationship worlds.
"Believe Me, I Know Where You Are Coming From And Where You Wish To Go" - David Cameron Gikandi
"Up until several years ago, David Cameron was "fairly" happy but found himself sometimes struggling internally and externally. He wanted this to stop, but he didn't know how to make it happen. Like so many he had his dreams, he "tried a lot" but didn't know how to achieve them. He sometimes felt split and conflicted within, and didn't know why or how to resolve that. And then he found the art of living. And now, things are great and they just keep getting better and better and better! And better and better and better! AND BETTER! "
If you just want life to finally make sense and start working out for you The David Cameron Collection will prove to be a profound eye opener for you and get you headed down the path to where it is that you want to go.
Creating REAL wealth...REAL wealth whether physically, financially, relationally, emotionally and/or spiritually doesn't get any more fundamental than this and couldn't be more clearly laid out for you.
If you're looking for a COMPLETE guide to making money, health and relationships harmonious and fulfilling the David Cameron Gikandi Collection has the answers you've been looking for which very few are willing to share, and as you'll soon discover, for very good reason.
David Cameron Gikandi reveals all in these comprehensive guides to making "Real Wealth" in EVERY aspect of your life like child's play.
If you'll follow these key fundamentals of life and wealth, you will have the life of your dreams, the freedom, the time, the health, the money and more... guaranteed!



* The David Cameron Collection *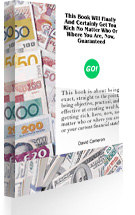 This Book Will Finally And Certainly Get You Rich No Matter Who Or Where You Are, Now, Guaranteed
Funny Name, POWERFUL and Insightful Book!! This book is about being exact, straight to the point, being objective, practical, and effective at creating wealth, getting rich, here, now, no matter who or where you are or your current financial state!
* Are you frustrated with fruitlessly trying to be financially free for years upon years without any sign of success? * Don't you wish there would come a time when you would finally get done with the searching and trying and actually start experiencing your own financial freedom and wealth, actually and practically get rich?
Well, your ship has finally come in. The time is now. And this revolutionary book will show you the way. Seriously show you, with actual numbers, resources, calculations, screenshots, profiles, graphs, tools, steps, practicalities, contacts, and more.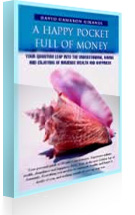 A Happy Pocket Full Of Money
Who wouldn't like to have a happy pocket full of money? Your Quantum Leap into the Understanding, Having and Enjoying of Immense Wealth and Happiness
A Happy Pocket Full Of Money is your personal guide to Wealth Consciousness. Experience infinite wealth, abundance and happiness Here, Now, in the new Golden Age of humanity. Everything you need to be extremely wealthy and happy is inside of you, and nothing outside of you can stop you.
The first step to having wealth is to know what it is. And few people know what it really is, in and of itself. What is wealth? What causes it? What causes the cause of it? A Happy Pocket starts with explaining what money REALLY is and explains that it is only the world's symbol of wealth. Once this very basic concept is understood, then you'll be ready to move deeper. AND YOU WILL!! Prepare yourself, this is quite a profound ride and you will never think about money the same again.








A Happy Pocket Full Of Money CD Collection
The same powerful information as The Happy Pocket ebook except you can take it with you and listen as you drive, do chores, etc.



Go Here For A Complete Listing Of David Cameron Gikandi's Work



I'm Finished With The David Cameron Gikandi Collection
Take Me To The Abundance and Happiness "Premier" Personal Development Collection

Take Me To The
Abundance and Happiness Home Page

Site Map



Each of the resources recommended in the David Cameron Gikandi Collection article and throughout Abundance-and-Happiness.com has been personally tested and approved by the founder as a credible and effective means of accomplishing it's intended purpose. Any and all guarantees are handled through the company that provides the resources.
Copyright © 2005-2010, Abundance-and-Happiness.com The David Cameron Gikandi Collection article and all content on Abundance-and-Happiness.com is strictly prohibited without the express written consent of the author and/or Enlightened Journey Enterprises. All Rights Reserved Worldwide.



End Of David Cameron Gikandi Collection