Tangible Step #1 - Personalizing Your YNB Website and Business Just For You
This step consists of...
Completing The Setup Wizard In The YourNetBiz Members Area and Personalizing Your YNB Business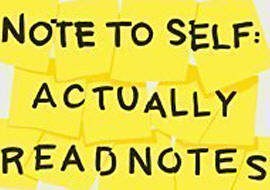 YourNetBiz "lingo" - the members area where all your YNB products, systems, training, tracking tools, coaching and tutorials are found is commonly called the "back office".
You can access your YNB and/or Primo Vacations "back office" (aka the members area) by clicking the links below.



https://members.yournetbiz.com/

and/or

https://members.primovacations.com/





(IMPORTANT NOTE : The Primo Vacations Links and Set Up Instruction For Primo Vacations Below Pertains ONLY To YNB Platinum Level Associates)

(If you're not currently a Platinum Member but would like to upgrade to receive a Primo Vacations Membership and the ability to market Primo Vacations at no additional cost to you, you can upgrade to a Platinum Product Suite in your YNB back office)





If this is the FIRST time that you are accessing your "back office" please be aware of the following...
Upon entering your YNB "back office" you will see a video describing YourNetBiz 3.0 and the enhancements that were made to the program about a year ago. At the bottom of that page you will see a green button stating - "Let Me In"
After watching that video, you're ready to click on the "Let Me In" button.
The system will NOT "allow" you to navigate the other tabs until you go through this process
Next...you'll see a Welcome video from Rob Hannley, co-founder of YNB. Be sure to watch that video.
Underneath the welcome video you will have to enter in your ID, Password (emailed to you when you joined the program) and your phone number.
Once that information is complete, click on the submit button and you should now have FULL access to the YNB back office.
If you HAVE already completed your FIRST login - Upon returning to the YNB members area you will find the following...
At the home page you will have to enter your User ID and Password which, you selected during the sign-up process. Both were emailed to you from YNB upon completion of your payment process.


Here's a Graphic Showing Where You Should End Up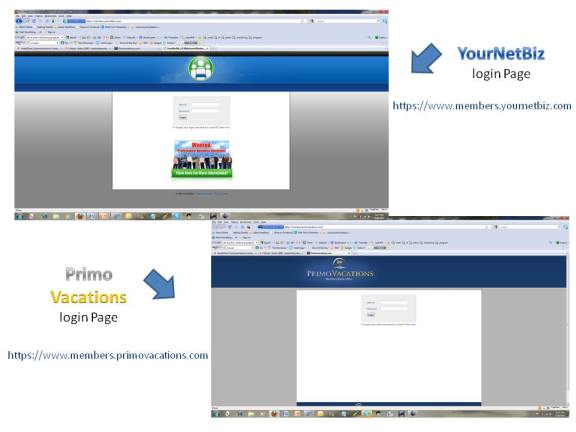 Once you login successfully you will be taken to your DASHBOARD or "Back Office" Home Page.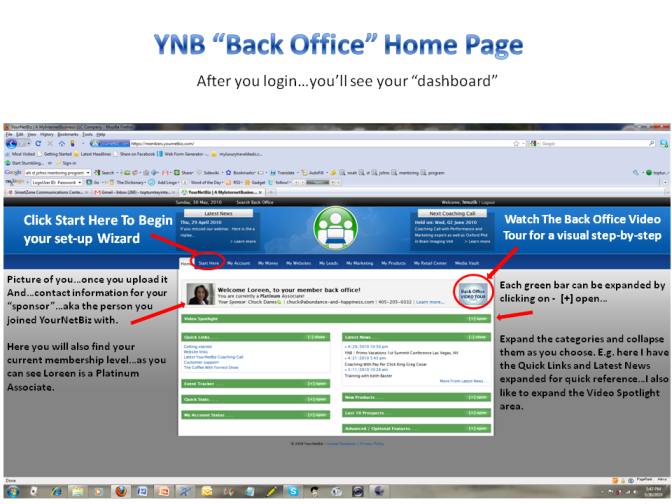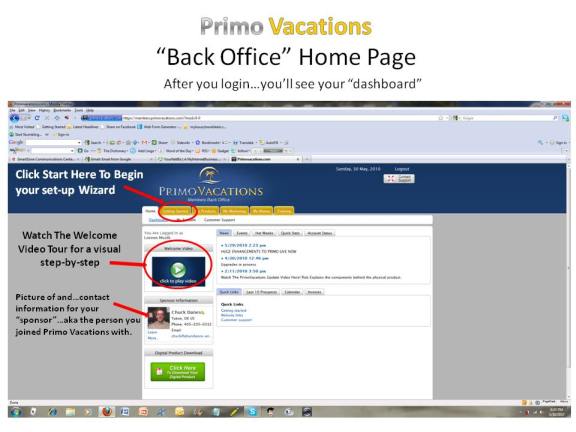 In both the YourNetBiz and the Primo Vacations Back Office Dashboards you can find a video for the "Back Office Tour". Please be certain to take the time to watch the videos...they will help you to familiarize yourself with your back office and show you how to navigate and utilize it most efficiently.


Next...Click The Play Button on the Image Below and Watch the YourNetBiz Back Office Tour:
Once you've watched the back office tour video or welcome video (Primo) then proceed with your Start-Up Wizard. Simply click on the Start Here tab in YourNetBiz or the Getting Started Tab in Primo Vacations (as indicated in the images above).
Be certain to complete each and every step in the order presented - view each and every video as they will provide you with very valuable information to make sure that your business foundation is solid, complete and ready to start processing and accepting sales
The set-up wizard can be completed in a matter of hours or days...the pace is truly up to you. You can take it one step/day or complete it all in one afternoon if you like.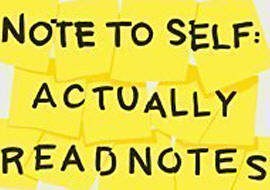 Please Note...
If you choose to use one of the pre-approved merchant accounts for your payment processing, there is a time frame associated with finalizing the process through the banks.
Although you can complete your entire set-up wizard in a matter of hours...the banks YNB utilizes are the "real deal" and will go through a thorough process that's necessary for setting up a secure merchant account. The process is "multi-step" regardless of the payment processor you choose and may take several days to "go live".
During the SET-UP Step - please take the time to familiarize yourself with all the back office functions, so that you can more easily navigate the system as we go through the upcoming steps.


Click Here for Helpful Tips, Additional Support
and Suggestions For The YNB Set-Up Process
Although the set-up wizard is quite intuitive, very simple and walks you through the set up process step-by-step...I have added this page to help you make some of the early decisions, based upon frequently asked questions and feedback from other team members.
Please visit and refer to this section throughout your set-up process should you require additional guidance prior to asking for help.
In conclusion, please take note of any questions that may arise during the set up process or ways that you see might enhance and improve the tutorials. Also, please submit themvia the help section of this website. If you have a question or suggestion about something...it's likely thatsomeone else will have that same question...if you share with the the team members here...we all benefit. We will develop a solid and highly efficient Q&A section for each step with your participation!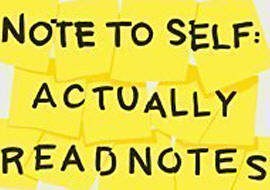 Please Note......At any time you can contact me by clicking on the Help tab at the bottom of this or any other page. If I'm unavailable for whatever reason and you need immediate assistance take advantage of the YourNetBiz support team open a support ticket or contact your personal sponsor directly.
Since you're reading this, that means you've completed the set-up Wizard and submitted your questions and/or comments.


You're making Great progress. Time for a little break, celebration and a happy dance!!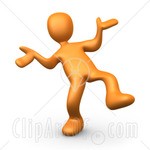 OK...Time to get back to work. Now that you've completed your set up process, you're ready for a "Quick Start" with your marketing. So...Let's cover that next.
If at any time you have questions and are unable
to find it here or in your YNB back office...
please contact me via the Help section