Johann Wolfgang Von Goethe Quotes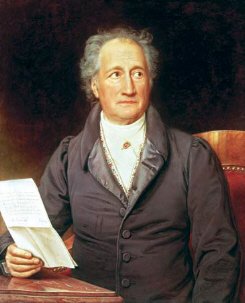 Johann Wolfgang von Goethe was a German writer who was born on August 28th 1749 and died on March 22nd 1832.
Goethe's works span the fields of poetry, drama, literature, theology, humanism, and science.
The Johann Wolfgang von Goethe quotes below make it clearly evident that Goethe was a "really smart guy" and had much insight and wisdom to share with the world.
That's how he made it in the Abundance-and-Happiness.com inspirational quotes.
Johann Wolfgang von Goethe Quotes
Magic is believing in yourself, if you can do that, you can make anything happen. Johann Wolfgang von Goethe
Whatever you can do, or dream you can, begin it. Boldness has genius, power, and magic in it. - Johann Wolfgang von Goethe
To create something you must be something. - Johann Wolfgang von Goethe
Wood burns because it has the proper stuff in it; and a man becomes famous because he has the proper stuff in him. - Johann Wolfgang von Goethe
What is not started today is never finished tomorrow. - Johann Wolfgang von Goethe
The human mind will not be confined to any limits. - Johann Wolfgang von Goethe
The hardest thing to see is what is in front of your eyes. - Johann Wolfgang von Goethe
More Johann Wolfgang von Goethe Quotes
Whatever you cannot understand, you cannot possess. - Johann Wolfgang von Goethe
We usually lose today, because there has been a yesterday, and tomorrow is coming. Johann Wolfgang von Goethe
Mysteries are not necessarily miracles. - Johann Wolfgang von Goethe
One can be instructed in society, one is inspired only in solitude. Johann Wolfgang von Goethe
The person born with a talent they are meant to use will find their greatest happiness in using it. - Johann Wolfgang von Goethe
Love and desire are the spirit's wings to great deeds. Johann Wolfgang von Goethe
"In the works of man as in those of nature, it is the intention which is chiefly worth studying."~ Johann Wolfgang von Goethe


More Johann Wolfgang von Goethe Quotes
He who enjoys doing and enjoys what he has done is happy. Johann Wolfgang von Goethe
The man with insight enough to admit his limitations comes nearest to perfection. Johann Wolfgang von Goethe
Many people take no care of their money till they come nearly to the end of it, and others do just the same with their time. - Johann Wolfgang von Goethe
No one has ever learned fully to know themselves. - Johann Wolfgang von Goethe
Life belongs to the living, and he who lives must be prepared for changes. Johann Wolfgang von Goethe
It is not doing the thing we like to do, but liking the thing we have to do, that makes life blessed. - Johann Wolfgang von Goethe
Who is the wisest man? He who neither knows or wishes for anything else than what happens. - Johann Wolfgang von Goethe
Knowing is not enough; we must apply. Willing is not enough; we must do. Johann Wolfgang von Goethe


More Johann Wolfgang von Goethe Quotes
Nothing is worth more than this day. - Johann Wolfgang von Goethe
Sowing is not as difficult as reaping. - Johann Wolfgang von Goethe
Who is the most sensible person? The one who finds what is to their own advantage in all that happens to them. - Johann Wolfgang von Goethe
If God had wanted me otherwise, He would have created me otherwise. Johann Wolfgang von Goethe
Go to foreign countries and you will get to know the good things one possesses at home. Johann Wolfgang Von Goethe
Self-knowledge comes from knowing other men. - Johann Wolfgang von Goethe
Man is made by his belief. As he believes, so he is. - Johann Wolfgang von Goethe
Fresh activity is the only means of overcoming adversity. - Johann Wolfgang von Goethe


More Johann Wolfgang von Goethe Quotes
One always has time enough, if one will apply it well. - Johann Wolfgang von Goethe
Nature knows no pause in progress and development, and attaches her curse on all inaction. - Johann Wolfgang von Goethe
No one would talk much in society if they knew how often they misunderstood others. - Johann Wolfgang von Goethe
If you wish to know the mind of a man, listen to his words. - Johann Wolfgang von Goethe
Love does not dominate; it cultivates. - Johann Wolfgang von Goethe
Everybody wants to be somebody; nobody wants to grow. Johann Wolfgang von Goethe
Only by joy and sorrow does a person know anything about themselves and their destiny. They learn what to do and what to avoid. - Johann Wolfgang von Goethe
This is the highest wisdom that I own; freedom and life are earned by those alone who conquer them each day anew. - Johann Wolfgang von Goethe


More Johann Wolfgang von Goethe Quotes
A creation of importance can only be produced when its author isolates himself, it is a child of solitude. - Johann Wolfgang von Goethe
Few people have the imagination for reality. - Johann Wolfgang von Goethe
He who does not think much of himself is much more esteemed than he imagines. Johann Wolfgang von Goethe
In nature we never see anything isolated, but everything in connection with something else which is before it, beside it, under it and over it. - Johann Wolfgang von Goethe
He who has a task to perform must know how to take sides, or he is quite unworthy of it. Johann Wolfgang von Goethe
Let everyone sweep in front of his own door, and the whole world will be clean. Johann Wolfgang von Goethe
We can't form our children on our own concepts; we must take them and love them as God gives them to us. - Johann Wolfgang von Goethe
We know accurately only when we know little, with knowledge doubt increases. Johann Wolfgang von Goethe


More Johann Wolfgang von Goethe Quotes
For a man to achieve all that is demanded of him he must regard himself as greater than he is. - Johann Wolfgang von Goethe
If you treat an individual as if he were what he ought to be and could be, he will become what he ought to be and could be. - Johann Wolfgang von Goethe
As soon as you trust yourself, you will know how to live. - Johann Wolfgang von Goethe
Beauty is a manifestation of secret natural laws, which otherwise would have been hidden from us forever. - Johann Wolfgang von Goethe
Thinking is easy, acting is difficult, and to put one's thoughts into action is the most difficult thing in the world. - Johann Wolfgang von Goethe
Divide and rule, the politician cries; unite and lead, is watchword of the wise. Johann Wolfgang von Goethe
He is dead in this world who has no belief in another. - Johann Wolfgang von Goethe
Be above it! Make the world serve your purpose, but do not serve it. Johann Wolfgang von Goethe


More Johann Wolfgang von Goethe Quotes
He who possesses art and science has religion; he who does not possess them, needs religion. - Johann Wolfgang von Goethe
A man's manners are a mirror in which he shows his portrait. Johann Wolfgang von Goethe
Great thoughts and a pure heart, that is what we should ask from God. - Johann Wolfgang Von Goethe
A person hears only what they understand. - Johann Wolfgang von Goethe
All intelligent thoughts have already been thought; what is necessary is only to try to think them again. - Johann Wolfgang von Goethe
All the knowledge I possess everyone else can acquire, but my heart is exclusively my own. - Johann Wolfgang von Goethe
Daring ideas are like chessmen moved forward; they may be beaten, but they may start a winning game. - Johann Wolfgang von Goethe
Death is a commingling of eternity with time; in the death of a good man, eternity is seen looking through time. - Johann Wolfgang von Goethe


More Johann Wolfgang von Goethe Quotes
Do not give in too much to feelings. A overly sensitive heart is an unhappy possession on this shaky earth. - Johann Wolfgang von Goethe
Hatred is something peculiar. You will always find it strongest and most violent where there is the lowest degree of culture. - Johann Wolfgang von Goethe
The formation of one's character ought to be everyone's chief aim. - Johann Wolfgang von Goethe
In the realm of ideas everything depends on enthusiasm... in the real world all rests on perseverance. - Johann Wolfgang von Goethe



I'm Finished With Johann Wolfgang von Goethe Quotes
Take Me Back To Quotations Index Page

I'm Finished With Johann Wolfgang von Goethe Quotes
Take Me To The Abundnance and Happiness Home Page

Site Map