Marriage Quotes
"Marriage: God's Sacred Bond Between
A Man And A Woman"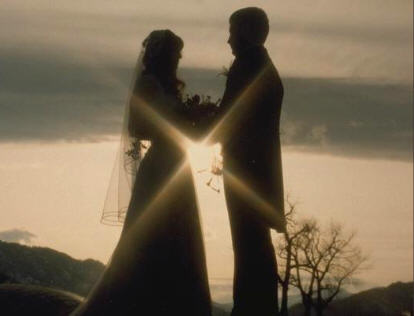 "What God Hath Joined Together, Let No Man Put Asunder"
Marriage Quotes are man's way (that includes women of course) of describing a sacred union between two souls united as one.
In this day and age it seems that marriage is treated as something that should be quickly disposed of when things don't seem to be working as ones perception thinks it ought to.
It's our hope that the following Marriage Quotes will help in some small way to expand the awareness of married couples in a way that strengthens the bond and encourages commitment in this precious union we call marriage.
Our marriage quotes are hand picked favorites describing this most committed of relationships in the best way they can be described.
The first section of our Marriage Quotes focuses on the more serious side of marriage. In the preceeding section you will find some Funny Marriage Quotes that are sure to brighten your day and make you smile.
We hope you enjoy our Marriage quotes.
Marriage Quotes
"The more you invest in a marriage, the more valuable it becomes."
- Amy Grant
---
"A great marriage is not when the 'perfect couple' come together. It is when an imperfect couple learns to enjoy their differences." -Dave Meurer
---
"Strike an average between what a woman thinks of her husband a month before she marries him and what she thinks of him a year afterward, and you will have the truth about him." -H.L. Mencken
---
"Chains do not hold a marriage together. It is threads, hundreds of tiny threads which sew people together through the years." -Simone Signoret
---
"More marriages might survive if the partners realized that sometimes the better comes after the worse." -Doug Larson
---
"A successful marriage requires falling in love many times, always with the same person." -Mignon McLaughlin
---
"Success in marriage does not come merely through finding the right mate, but through being the right mate. " -Barnett R. Brickner
---
"A man without a wife is like a vase without flowers." -African Proverb
---
"Love requires a willingness to die; marriage, a willingness to live."
-Mignon McLaughlin
---
"People do not marry people, not real ones anyway; they marry what they think the person is; they marry illusions and images. The exciting adventure of marriage is finding out who the partner really is. "
-James L. Framo
---
"I dreamed of a wedding of elaborate elegance,A church filled with family and friends.I asked him what kind of a wedding he wished for,He said one that would make me his wife." -Author Unknown
---
"Between a man and his wife nothing ought to rule but love." -William Penn
---
"And when will there be an end of marrying? I suppose, when there is an end of living." -Tertullian
---
Even The Strongest Relationships Need A Little Help Sometimes. Learn how to fall in love all over again. Best selling authors Gay and Kathlyn Hendricks show you how.
---
More Marriage Quotes
"Marrying for love may be a bit risky, but it is so honest that God can't help but smile on it." -Josh Billings
---
"All married couples should learn the art of battle as they should learn the art of making love. Good battle is objective and honest-never viscious or cruel. Good battle is healthy and constructive, and brings to a marrriage the principal of equal partnership." -Ann Landers
---
"In every marriage more than a week old, there are grounds for divorce. The trick is to find, and continue to find, grounds for marriage."
-Robert Anderson
---
"The sum which two married people owe to one another defies calculation. It is an infinite debt, which can only be discharged through eternity."
-Johann Wolfgang von Goethe
---
"Love seems the swiftest but it is the slowest of all growths. No man or woman really knows what perfect love is until they have been married a quarter of a century." -Mark Twain
---
"A first-rate marriage is like a first-rate hotel: expensive, but worth it."
-Mignon McLaughlin
---
"Don't smother each other. No one can grow in shade." -Leo Buscaglia
---
"Don't marry the person you think you can live with; marry only the individual you think you can't live without." -Dr. James C. Dobson
---
"Once a woman has forgiven her man, she must not reheat his sins for breakfast." -Marlene Dietrich
---
"Marriage is three parts love and seven parts forgiveness of sins."
-Langdon Mitchell
---
"I have great hopes that we shall love each other all our lives as much as if we had never married at all." -Lord Byron
---
"We have the greatest pre-nuptial agreement in the world. It's called love." -Gene Perret
---
"Only choose in marriage a man whom you would choose as a friend if he were a woman." -Joseph Joubert


---
Relationships Can Be Dramatically Improved Through Spiritual Awareness. Learn How To Tap Into This Incredible Power And Create Abundance In Every Area Of Your Life. Lifetime Guarantee.
Click Here To Find Out How
---
More Marriage Quotes
"What counts in making a happy marriage is not so much how compatible you are, but how you deal with incompatibility." -George Levinger
---
"That quiet mutual gaze of a trusting husband and wife is like the first moment of rest or refuge from a great weariness or a great danger."
-George Eliot
---
"A happy marriage is the union of two good forgivers." -Ruth Bell Graham
---
"A perfect marriage is one in which "I'm sorry" is said just often enough."
-Mignon McLaughlin
---
"A happy marriage is a long conversation which always seems too short."
-Andre Maurois
---
"Often the difference between a successful marriage and a mediocre one consists of leaving about three or four things a day unsaid." -Harlan Miller
---
"I didn't marry you because you were perfect. I didn't even marry you because I loved you. I married you because you gave me a promise. That promise made up for your faults. And the promise I gave you made up for mine. Two imperfect people got married and it was the promise that made the marriage.
And when our children were growing up, it wasn't a house that protected them; and it wasn't our love that protected them - it was that promise." -Thornton Wilder
---
"Any fool can have a trophy wife. It takes a real man to have a trophy marriage." -Diane Sollee
---
"What greater thing is there for two human souls than to feel that they are joined for life - to strengthen each other in all labor, to rest on each other in all sorrow, to minister to each other in all pain, to be one with each other in silent, unspeakable memories at the moment of the last parting." -George Elliot
---
"Grow old along with me. The best is yet to be - the last of life for which the first was made." -Robert Browning
---
"Marriage is one long conversation, checkered with disputes." -Robert Louis Stevenson
---
"He who finds a wife finds what is good."
Proverbs 18:22
---
"Motto for the bride and groom: We are a work in progress with a lifetime contract." -Phyllis Koss
---
In Life, There Are Only Three Problems. Money, Health and Relationships. You Were Created To Have Abundance And Fullfillment In All Of Them. Now You Can. Take The "Power Pause" 3 Steps 3 Minutes.
Click Here To Learn How
---
We hope you've enjoyed our Marriage Quotes.
Got a Marriage Quote you'd like to share? You can E-Mail it. We'd be happy to hear from you.
Do you have any questions or comments on how we might improve our Marriage Quotes section? You can E-Mail them here. Your input is very important to us.
Be sure to check out the rest of our site.
It's purpose is to empower, inspire, coach, and guide you. The tips and tools within it will walk you step by simple step down the road to higher knowledge and a deeper, crystal clear understanding of how to acheive whatever it is you are looking for in your life, regardless of how many times you may have tried and failed in the past.
If you can provide the will and desire we will show you how you can create a life beyond your wildest expectations. Finally you will come to know what it means to experience deep and lasting Abundance and Happiness.


Go To Funny Marriage Quotes

Take Me Back To The Home Page

Quotes Main Page

Quotes By Category

Site Map


We will be adding more Marriage Quotes regularly, so be sure to check back often.



End Marriage Quotes