Higher Balance Meditation Music - Ascension
Ascension Provides An Experience Of Enhanced Focus
and An Intensified Inflow Of Prana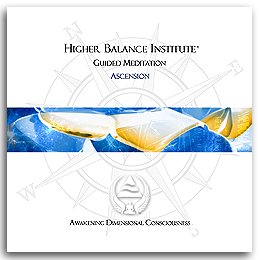 The Ascension Meditation Music CD
The Ascension meditation music CD consists of an extended trance meditation.
Certain music, such as in Ascension, has the ability to launch one into a mental state of enhance focus while allowing high levels of prana to stream in.
A remarkable energy amplification or 'Kundalini' experience is not uncommon while using Ascension. HBI has long known of the benefits of this incredible tool, and now we offer it to you with Ascension.
If If you have never used high energy music of this type during meditation you are missing out on a super charged experience.
With an extended introduction that allows you to take time to focus, and then transitions to a mix that propels you forward into mental expansion.
The intensity of the music along with minimal guidance from Eric gives you the best out of the guided and unguided meditations packed into one. Develop your focus and acquire energy like never before during this full length continuous meditation that allows you to take your meditations to the next level by providing over an hour of nonstop music.
This album is intended for people that want more than just the standard length meditations. If you find yourself continuing on through more than one track then it is definitely time to upgrade your meditation music.
The new meditation album features Progressive Trance and House beats.





All Higher Balance Products Are Backed By A 100% Unconditional No Hassle, No Quibble Satisfaction Guarantee
The Ascension meditation music CD like all Higher Balance products
comes with an unconditional satisfaction guarantee
Order The Quickening Meditation Music CD - $29.00
Go To Higher Balance Meditation Music CDs Index
Learn More About Higher Balance's Revolutionary Awakening Dimensional Consciousness Guided Meditation System