Higher Balance Meditation Music
Deep Resonating Aums
There Exists An Ancient Syllable That Re-Energizes The Soul and Your Immediate Surroundings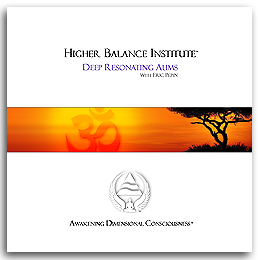 Deep Resonating Aums Meditation Music CD
The Higher Balance Deep Resonating Aums meditation music CD provides the means enabling you to fully embrace the sacred syllable. Resonating Aums is a meditation CD provides a level of assurance and empowerment as it permeates through your environment and impacts your deepest energies.
Deep Resonating Aums makes it clearly evident that a cosmic healing force understood and utilized by few is contained in your very own voice.
The Aum is known as a primordial vibration that precedes creation itself. With the private chant session provided in the Deep Resonating Aums meditation CD we invite you to join Higher Balance founder Eric Pepin in devotion to the Force. But hang on tight...the Deep Resonating Aums meditation CD will raise your vibratory tonal exponentially.
Working with Deep Resonating Aums will quite literal resonate and permeate all objects around you, effectively re-writing all undesirable environmental energy programming. Like a springboard of positivity. Use the Deep Resonating Aums meditation CD to launch your spiritual work to newly expanded heights.
You will enter a "deep zone" as you follow Eric's vocal resonations. His energy or "middle pillar" will creates this for you. And like a tuning fork, and without effort, your own middle pillar will pick up on these powerful vibrations, and resonate as ONE with them. It will literally pull your spiritual essence forward. Something you must experience!
Deep Resonating Aums is split into two tracks. The first is 20 minutes in length. The second is 45 minutes in case you want to have an even deeper session.
The Deep Resonating Aums meditation module will give you the opportunity to tap into and access a very special frequency in this dimension. Use it wisely and do not overly indulge it. Only two times a week is recommended and is ideal for re-patterning the vibratory tonal!
Enjoy...the experience is profound.





All Higher Balance Products Are Backed By A 100% Unconditional No Hassle, No Quibble Satisfaction Guarantee
The Deep Resonating Aums meditation music CD like all Higher Balance products
comes with an unconditional satisfaction guarantee
Order The Deep Resonating Aums Meditation Music CD - $49.00
Go To Higher Balance Meditation Music CDs Index
Learn More About Higher Balance's Revolutionary Awakening Dimensional Consciousness Guided Meditation System