Higher Balance Meditation Music CD - Elan
Elan Provides Enhanced Chakra Focus Providing A More Experiential and Profound Meditation Experience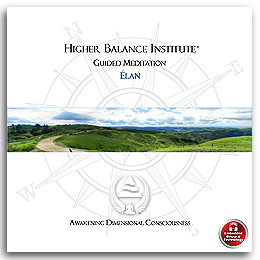 Elan Meditation Music CD
Élan consists of more than a meditation music CD. It's a Chakra Treatment.
During meditation it is vital that your focus remains on the chakra points.
If you have ever found yourself distracted and needing help to regain your focus on the chakras, or you could use some help finding or feeling a particular chakra then Elan is the meditation music CD that holds your answer.
As you meditate you will find that each chakra has a different "feeling" associated with it, and as you can focus on this feeling or the sensation arising from it you will find it to intensify and allow more energy to be manifested on each point.
The Elan meditation music CD incorporates specialized binaural technology that actually intensifies and assists in targeting the focus one is able to give to each of the three main chakras.
Increased chakra focus means increased results; the more you allow yourself to focus on the chakra the more energy you are drawing into it, and this directly affects the tonal that you reside in.
The Elan meditation music CD is extended and continuously runs for over an hour. That gives you direct focus for more than twenty minutes per chakra! Élan may lead you to the meditation breakthrough you've been looking for.
Use the Elan meditation music CD as needed. Do not use while operating a vehicle or in circumstances that may require quick responses of any type.





All Higher Balance Products Are Backed By A 100% Unconditional No Hassle, No Quibble Satisfaction Guarantee
The Elan meditation music CD like all Higher Balance products
comes with an unconditional satisfaction guarantee
Order The Elan Meditation Music CD - $49.00
Go To Higher Balance Meditation Music CDs Index
Learn More About Higher Balance's Revolutionary Awakening Dimensional Consciousness Guided Meditation System