Higher Balance Meditation Music - Mind Santuary
Mind Sanctuary Provides A Rejuvenating And Profoundly Refreshing Experience Into A Renewing State Of Deep Delta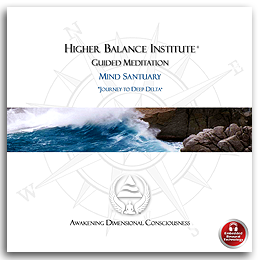 As we all know in this age, there are moments in life when a person simply needs to withdraw and gather their inner strength. Even the strongest of us still need a place to gather ourselves to prepare for a long journey. A place of sanctuary for the mind and spirit. Understanding this need, Eric has created "Journey to Deep Delta" and it will take you to that sanctuary for your mind. After experiencing many other similar products, thoughtful consideration was taken of all their positive and negative qualities, and a masterpiece was created!
Documented research indicates the deepest state of sleep attainable occurs during the Delta brainwave state. The Embedded Binaural Technology we designed for this soundtrack will take you down to that 'deep delta' state. It will calm even the most persistent mental chatter into deep meditation.
This soundtrack is also designed to help with DEEP RELAXATION and DEEP SLEEP. You are guaranteed to achieve both. This material was not specifically designed for paranormal experiences but if you decide to practice the techniques from the Higher Balance meditation system you will get interesting results. If you just want to have a deeply relaxing moment, grab a pillow and enjoy the Journey!
This soundtrack was created as a 'power tool' for those who need it. Rest is a critical part in emotional and biological development. With those areas balanced, it is much easier achieving creative flow, heightened focus, effortless multitasking, and stabilizing higher states of consciousness!
As you put on headphones and relax into a comfortable position you will hear a voice prepare you. Your mind will then be immersed in deep delta waves. The brain will then respond by releasing relaxing endorphins. As you start the descent to Delta, soft ocean waves begin to relax over you. Your journey has begun. Your brain will then require stimulation in variables of 10-20 seconds. That is when new frequencies will be introduced and a new pallet of sounds such as whales, rain, wind, ting-shaws, singing bowls, and wind chimes are assembled that create a scenario that feels like a sanctuary for the mind. Feel free to fall asleep and gain the rewards of a deep night's rest reminiscent to childhood. Enjoy.
Benefits: Clarity of Mind, Emotional Balance, Inner Strength, Improved Physical Stamina, and much more!
Use this CD only as needed. Do not use while operating a vehicle or in circumstances that may require quick responses of any type. We mean this literally!





All Higher Balance Products Are Backed By A 100% Unconditional No Hassle, No Quibble Satisfaction Guarantee
The Mind Sanctuary meditation music CD like all Higher Balance products
comes with an unconditional satisfaction guarantee
Order The Mind Sanctuary Meditation Music CD - $39.00
Go To Higher Balance Meditation Music CDs Index
Learn More About Higher Balance's Revolutionary Awakening Dimensional Consciousness Guided Meditation System