Meditation Music - Phoenix
The Phoenix Meditation CD Provides An Uplifting And
Driving Forward Type Of Meditation Experience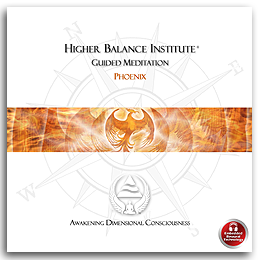 The Higher Balance Phoenix meditation CD consists of a progressive, mind bending electronic music style. Heavily influenced by modern hip hop, house and electronica dance beats. Active panning and retro drum samples.
The Phoenix meditation CD is esoteric on an epic level. It's very uplifting with a dynamic and powerful sensation of pushing forward. It invokes powerful energy releases and collection of prana.
Projected experience: : A very powerfully charging effect emotionally, spiritually and physically.





All Higher Balance Products Are Backed By A 100% Unconditional No Hassle, No Quibble Satisfaction Guarantee
The Phoenix meditation music CD like all Higher Balance products
comes with an unconditional satisfaction guarantee
Order The Phoenix Meditation Music CD - $29.00
Go To Higher Balance Meditation Music CDs Index
Learn More About Higher Balance's Revolutionary Awakening Dimensional Consciousness Guided Meditation System