Higher Balance Meditation Music - Quickening
With The Quickening Meditation Music CD
Meditation Music Just Got Techno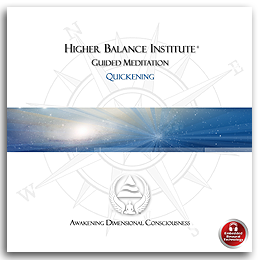 Quickening Meditation Music CD
The Quickening meditation music CD includes the following instruments: Tech-house style, Modern beats, Drum n bass, Voicestra, other-world vibe, Epic orchestration, Cutting-edge electronic music.
Quickening is a rare and uncommon form of meditation music providing an epic journey through the fabric of your mind. It creates an accelerated focus that easily pushes past the babbler and intensifies energy flow and the circulation of prana.
Projected experience from use of the Quickening meditation CD: Dramatic change and positive upheaval giving way to a fresh mental outlook and emotional re-organization. Empowering.
Chakra Focus: Mind
Warning: Very cutting edge / Techno meditation / Experimental





All Higher Balance Products Are Backed By A 100% Unconditional No Hassle, No Quibble Satisfaction Guarantee
The Quickening meditation music CD like all Higher Balance products
comes with an unconditional satisfaction guarantee
Order The Quickening Meditation Music CD - $29.00
Go To Higher Balance Meditation Music CDs Index
Learn More About Higher Balance's Revolutionary Awakening Dimensional Consciousness Guided Meditation System