Meditation Music - Shangrila
The Higher Balance Shangrila Meditation CD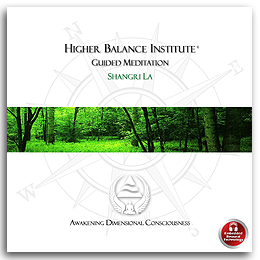 Shangrila Meditation CD
The instruments in the Shangrila meditation CD include acoustic guitars, piano, oboe, flute & cello.
The Shangrila meditation CD takes you on a journey between worlds and what lies in-between. Light and uplifting, the Shangrila meditation CD delivers a sense of hopefulness with moments of heroic sensations and powerful energy movements throughout.
Projected experience: Deep relaxation with emphasis to the majestic nature of life and inner beauty. Builds a positive emotional center.
Chakra Focus: Heart Center and/or Mind Center





All Higher Balance Products Are Backed By A 100% Unconditional No Hassle, No Quibble Satisfaction Guarantee
The Shangrila Deep Sleep meditation music CD like all Higher Balance products
comes with an unconditional satisfaction guarantee
Order The Shangrila Meditation CD - $29.00
Go To Higher Balance Meditation Music CDs Index
Learn More About Higher Balance's Revolutionary Awakening Dimensional Consciousness Guided Meditation System