T Harv Eker
T Harv Eker Knows All About The Importance Of The "Internal Game" When It Come To Creating Millionaires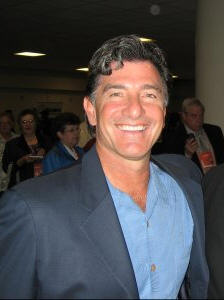 T Harv Eker understands the necessity
of reprogramming your "Internal Map Of Reality"
If Learning How To Create and Sustain Monetary Wealth Is A Desire That You Hold T Harv Eker Is Your Man
T. Harv Eker is the author of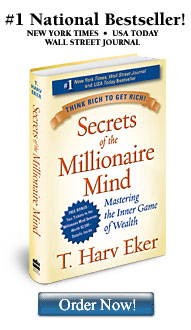 Secrets of the Millionaire Mind and Mastering the Inner Game of Wealth which are a phenomenon in the publishing industry, hitting #1 on the NY Times, Wall Street Journal, USA Today bestseller lists, and several other national lists, in the first week they went on sale.
Eker is also the founder and president of Peak Potentials Training, one of the fastest growing personal success training companies in North America. His personal empowerment seminars regularly fill convention halls around the world with upwards of 2,000 people with his world-famous Millionaire Mind Intensive seminar and other programs.
In addition to his best selling books, T. Harv Eker has also developed several highly-acclaimed courses such as The Millionaire Mind Intensive, Life Directions, Wizard Training and Train the Trainer. He is also the producer and trainer of the world-famous Enlightened Warrior Training.
After years of struggle and mediocre results and even after achieving millionaire status and losing it all, Ekers stamina and determination would eventually help him figure out exactly what was going on. He would soon discover that regardless of what amount of money was acquired in the physical world that retaining that wealth was really an "inside game."
Although T. Harv Eker went from zero to millionaire in only 2 1/2 years by combining what he refers to as a unique brand of "street-smarts" with "heart" he would soon discover until this "inner game" was perfected, external success couldn't last.
T. Harv Eker is considered to be one of North America's most exciting presenters. His high-energy, no holds barred, 'cut-to-the-chase' style keeps his audience spellbound. His unique teaching style utilizes breakthrough techniques, high participant involvement, and the latest in accelerated learning technologies so that the participants who attend his seminars learn faster, remember more and achieve maximum results. The change in people is immediate and permanent.
T. Harv Eker's motto is "talk is cheap'" and his unique ability is getting people to take focused and intentional action in the real world which has proven to produce profound results in people from nearly ever culture from all walks of life.
Well over a half a million participants have come from all over the world to attend T. Harv Eker's seminars.
T Harv Eker's Early Years
T. Harv Eker is the son of European immigrants who came to North America with only thirty dollars to their name. He grew up in Toronto Canada, but spent most of his adult years in the United States.
Money was scarce throughout his childhood, so at thirteen, Eker began his work career. As a teen he delivered newspapers, scooped ice cream, sold novelties at fairs, and suntan lotions at the beach. After a year at York University, he decided to take time off to pursue his dream of becoming a millionaire.
Throughout his early adult years T. Harv Eker worked in a variety of jobs and started more than a dozen different businesses, but regardless of what he did, or how hard he worked, for some reason he just couldn't seem to attain the level of success he had a desire to reach. His stick to it demeanor would eventually pay off. Finally after many years of frustration, and numerous failed attempts, Eker hit the jackpot.
He opened one of the first retail fitness stores in North America and grew the business to ten stores in only two and a half years. He then sold part of the company to a Fortune 500 corporation.
With the sale, Eker reached his millionaire dream. He was finally a millionaire, however in less than two years, the money was gone. Through a combination of poor investments and unchecked spending, primarily due to what he refers to as his "internal map of reality" at the time, Eker started back at square one … again.
It was at that point that Eker, based on mostly his own experiences concerning the creation of financial wealth, began developing his own theories about people's mental and emotional relationship to money and discovered the key to not only attaining wealth but more importantly sustaining that achievement once accomplished.
He realized that his "inner-money thermostat" or what he also refers to as his "internal map of reality" was set for a specific amount of financial success, and that everyone else had a financial set point too. His most profound discovery was that this "money blueprint" could be changed not only in himself but others as well. Using the very principles and practices found in his book, Secrets of the Millionaire Mind, Eker reset his own blueprint to not only create success, but to keep and grow it, and become a multi-millionaire in the process.
During his years of struggle, Eker vowed that should he ever get rich, he would help others do the same. He has most certainly kept his promise. Today, his company Peak Potentials Training, is one of the largest and fastest-growing seminar companies in the world. He has already touched and impacted the lives of over 500,000 people, helping many reach and others move closer to their goal of true financial freedom.
T Harv Eker's works, both his books and live seminar events are most definitely changing people's lives!
Find Out How To Secure Your Spot At T Harv Eker's Millionaire Mind Intensive For FREE



I'm Finished With T Harv Ekers Bio
Take Me To The Abundance and Happiness Home Page

Site Map