The Water Of Life
Experience A Very Personal and Profoundly Empowering
Spiritual Encounter That Will Change Your Life Forever
"Spiritual Development Just Got Easier
and Much More Profound"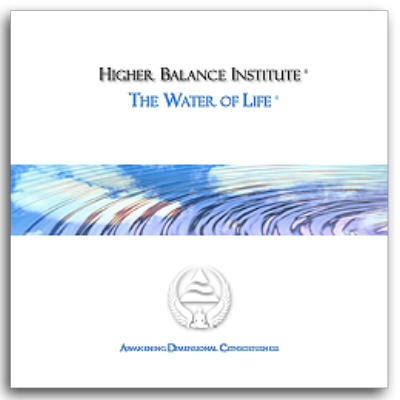 The Water Of Life - Higher Balance Core II Expansion Module For Spiritual Development
The Water of Life
A Personal and Profoundly Empowering
Experience With The Divine
Re-Mastered, Added Material and Even More Powerful!
"From Zero to Booming Electric Vitality in 30 Minutes"
Those of you who already have the Water of Life know how powerful it is and how it has greatly affected your practice. Now, we have re-mastered and released the FULL version for a powerhouse, vitality amping technique!
"Thank God for this, it is my place of healing and revitalization!"
"Rated a Top Ten Favorite by Participants!"
This radically potent, guided tour into amplified octaves of awareness offers:
Tremendous Inner Bliss and Sense of Completion
Engaging connection with The Divine
Massive Infusion of Life Force / Prana
Magnify your personal Frequency and send your Attraction Level Booming! "A Fortunate, Side Effect!"
Greatly Amplify your Success Rate with ANY other Spiritual Exercise!
This Technique may be used for yourself or shared with others
Developed and used by Higher Balance founder Eric Pepin for years, The Water of Life is a specialized method of collecting the life-giving energy known as the force or Prana and infusing yourself with its life giving powers.
The first half of the audio material will give a detailed layout and explanation of the technique. The second half includes step by step instructions where Eric guides you through the process which guarantees the best results. Once you have mastered the technique you may then apply it on your own without audio assistance.
Eric shares his accounting of The Water Of Life...
"There was a time of suffering for me, this is what I often turned to renew my spirit and regain my strength." -Eric Pepin
If you have ever desired an experience of inner bliss and a higher communion with the divine then this guided exercise is an absolute must!
"Originally we thought the extended version had been lost like some of the other materials. In fact many of the HBI members didn't even know about this extended and original version. We were all blown away when we heard it and knew we had to get it out ASAP!"
In this Newly Expanded Edition, Higher Balance Institute founder Eric Pepin goes into a deep trance state and releases on audio tape, a personal frequency that when experienced is absolute bliss. It extends the original technique amplifying the effects and increasing the depth of consciousness you enter into. He adds simple but profound steps to fortify your authentic connection with the Universe.
*Classic Series: The Water of Life is the first release from the Classic Series. This series is a compilation of audio material created by Higher Balance founder Eric Pepin over the last 15 years during Higher Balance's development. The audio quality of the Classic Series has been digitally re-mastered from the original analog recordings.
Here are just a few unsolicited testimonials from students of Water Of Life...
"What I expected was nothing compared to what I experienced. This is transcendence! It is an amazing gift from the universe! I cannot imagine anyone who will truly understand it until they have experienced it."Helen Y. - Corona, CA
"I was exhausted and ready to go to bed but I wanted to try this material. Even though I was tired, it was so intense and energizing my experience goes beyond words! This was the single most awakening experience of my life! Higher Balance is so much more than I suspected, my deepest gratitude to you!"- John S., York, PA



Click Here To Order The Water of Life - $69.00
OR...
Save $$$ With The Core II Super Saver Package
Click Here To Take Advantage Of The Higher Balance
Core II Super Saver Package and Save


All Higher Balance Products Are Backed By A 100% Unconditional No Hassle, No Quibble Satisfaction Guarantee
The Water Of Life like all Higher Balance products
comes with an unconditional satisfaction guarantee
Learn More About The Higher Balance
Awakening Dimensional Consciousness Education System

Return To Core II Product Overview

Take Me To The
Foundation Guided Meditation System