The Higher Balance Core II
Spiritual Development and Multi-Dimensional Consciousness Expansion Modules
It's Time To Discover and Explore
New and Greater Depths Of Understanding
The Spiritual Awakening
Revolution Continues...
Core II - "The Secret Key"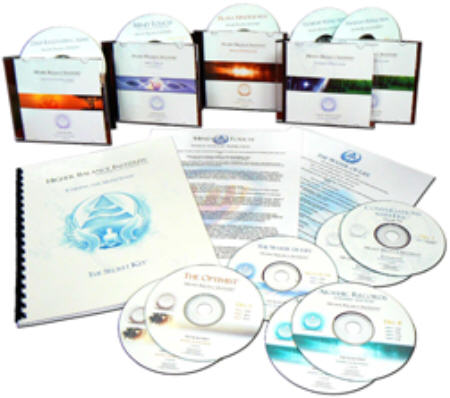 Higher Balance Core II Expansion Modules
Available In Hard Copy CD Format
Prerequisites Apply To The Higher Balance Core II Modules
Please note you MUST own all the previous Core's before the one you are ordering. For example, prior to ordering Core II, you must own the Core I : Awakening Dimensional Consciousness Guided Meditation System. If you order a Core you aren't ready for your order will not be shipped out, or downloaded, and your payment will be refunded.
The Higher Balance Institute Presents
Core II - 'The Secret Key' - The Journey Expanded
You already know and have experienced the transformational power of the Core I Awakening Dimensional Consciousness Guided Meditation System. You've experienced "the shift" and understand, as a result of the expansion of your consciousness and your elevated awareness, the indescribable and vast nature of what is available to and for you.
You're well aware that Eric Pepin, the founder of The Higher Balance Institute has created the most advanced system for spiritual development, elevating sixth sense awareness and awakening the dimensional mind ever created.


Core II - 'The Secret Key' Is Certainly No Exception and Will Take You to Ever Greater Heights
Core II - 'The Secret Key' will open your eyes, your mind and your heart to a whole new level of insight...provide a greatly expanded awareness...and an uncommon depth of understanding of the unseen aspects of creation as you progress down the path of dramatically enhanced awareness and spiritual development.
The information and techniques provided in Core II 'The Secret Key', will lead you to a whole new profound and experiential level where you'll "truly" understand and personally experience your interconnectedness with energy...dimensional consciousness...and most importantly enable and empower you to tune into and elevate your Sixth Sense awareness to ever greater levels.
As difficult as it can be to conceive, you'll finally understand and experience the simplicity of accessing the profound and mystical, at even greater depths and in a much more intense manner than where the Core I : Awakening Dimensional Consciousness Guided Meditation System has taken you thus far.
You will learn what role your organic brain plays in both activating and/or blocking the Sixth Sense and how to bridge the gap between the physical brain and the spiritual aspects of mind. You'll be provided everything required to awaken and consciously utilize your Sixth Sense properties at will as well as develop the ability to consistently utilize these innate sixth sense properties in a waking "shifted" state outside of meditation.
Higher Balance's Core II : 'The Secret Key Provides
A "Spiritual Awakening Expanded"... Exponentially
You will learn to consistently exercise mindfulness at will through conscious and intentional thought reflection, and navigate completely "unattached" through your inner thoughts as you begin to explore and discover at ever greater depths the creative power your mind holds as well as how to utilize that power effectively and intentionally in every aspect of your life.
The simplicity of what you once perceived as mystical, esoteric, complex and seemingly unreachable will take form as crystal clarity and a "profound sense of inner assurance and "knowing."
Prepare to be blown away as Higher Balance founder Eric Pepin guides you into ever expanding realms of the Absolute as you personally experience a profound and freeing paradigm shift of understanding both intellectually and experientially as your personal and intimate connection with Source is realized.
'The Secret Key' which makes up Core II of the Awakening Dimensional Consciousness Expansion Modules consists of 7 individual modules, each unique and specifically designed to enable you to explore, understand and experience greater insight as well as receive clearly defined and detailed instruction as to how to put what is discovered within each Higher Balance Core II module to use.
Welcome to the Higher Balance Core II : The Secret Key expansion modules.
What you are soon to discover will deepen and dramatically enhance your depth of understanding, elevate your awareness and change your life forever



Super Saver Core II Packages Now Available
or Purchase Core II Expansion Modules Individually
Each module contained within Higher Balance's Core II : 'The Secret Key' can be purchased individually or as a complete package at a discounted price.
When purchased as a complete package, Core II 'The Secret Key' is also available in digital download format providing even greater savings.
Regardless of your individual needs or which of the Higher Balance modules you choose, Core II 'The Secret Key', like all Higher Balances 6th sense and spiritual development modules will prove to be the wisest investment you could ever make in yourself as you expand your awareness and progress in your personal and spiritual growth process.
Detailed descriptions of each individual Higher Balance Core II module is provided below as well as a independent links redirecting you to purchase each chosen module independently.
Please note : At the bottom of this page is the option as well as the process for ordering the Higher Balance Core II Super Saver Package.




Product description and pricing for individual Higher Balance Core II : 'The Secret Key' modules...
The Water Of Life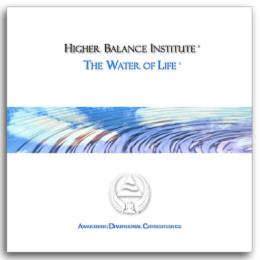 Re-Mastered, Added Material and Even More Powerful!
"From Zero to Booming Electric Vitality in 30 Minutes"
Those of you who already have the Water of Life know how powerful it is and how it has greatly affected your practice. Now, we have re-mastered and released the FULL version for a powerhouse, vitality amping technique!
"Thank God for this, it is my place of healing and revitalization!"
"Rated a Top Ten Favorite by Participants!"
This radically potent, guided tour into amplified octaves of awareness offers:
Tremendous Inner Bliss and Sense of Completion
Engaging connection with The Divine
Massive Infusion of Life Force / Prana
Magnify your personal Frequency and send your Attraction Level Booming! "A Fortunate, Side Effect!"
Greatly Amplify your Success Rate with ANY other Spiritual Exercise!
This Technique may be used for yourself or shared with others
"What I expected was nothing compared to what I experienced. This is transcendence! It is an amazing gift from the universe! I cannot imagine anyone who will truly understand it until they have experienced it." - Helen Y. - Corona, CA
Developed and used by Eric for years. Water of Life is a specialized method of collecting the life-giving energy known as the force or Prana and infusing yourself with its life giving powers.
"I was exhausted and ready to go to bed but I wanted to try this material. Even though I was tired, it was so intense and energizing my experience goes beyond words! This was the single most awakening experience of my life! Higher Balance is so much more than I suspected, my deepest gratitude to you!" John S. - York, PA
The first half of the audio material will give a detailed layout and explanation of the technique. The second half includes step by step instructions where I guide you through the process which guarantees the best results. Once you have mastered the technique you may then apply it on your own without audio assistance.
"There was a time of suffering for me, this is what I often turned to renew my spirit and regain my strength." -Eric Pepin
If you have ever desired an experience of inner bliss and a higher communion with the divine then this guided exercise is a must!
"Originally we thought the extended version had been lost like some of the other materials. In fact many of the HBI members didn't even know about this extended and original version. We were all blown away when we heard it and knew we had to get it out ASAP!"
In this Newly Expanded Edition Eric goes into a deep trance state and releases on audio tape, a personal frequency that when experienced is absolute bliss. It extends the original technique amplifying the effects and increasing the depth of consciousness you enter into. He adds simple but profound steps to fortify your authentic connection with the Universe.
*Classic Series: The Water of Life is the first release from the Classic Series. This series is a compilation of audio material created by Eric Pepin over the last 15 years during Higher Balance's development. The audio quality of the Classic Series has been digitally re-mastered from the original analog recordings.
Click Here To Order The Water Of Life Individually
...OR...
Take Advantage Of The Super Saver Core II Package Discount
...OR...
Own the Entire Collection of Higher Balance Core I thru VII Modules
Thought Reflection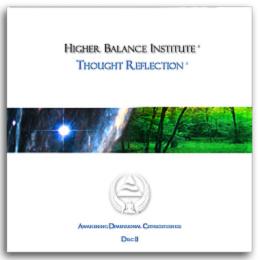 Thought Reflection will be a journey of discovery regarding yourself that you will never forget!
What if you looked in a pool of water to see your reflection and what you saw was a different being. Would you be shocked? Or would you say, "There you are! I have been looking for you!
You are not who you think you are! And if you really want to know who you really are you will have to defy all logic. You will have to peel away the layers of who you think you are! Then, when you have nothing left of the 'self' and have been trained to believe and accept as who you 'really are,' you will awaken!
Thought Reflection is profoundly deep and spiritually moving. It is, according to many out there who have been seeking answers their entire lives, one of the greatest tools of self-discovery currently offered. The breakdown of knowledge and techniques I am offering to you is guaranteed to successfully deliver sudden and dramatic results.
Experience an in-depth approach to the most complex challenges facing anyone who is truly seeking higher states of consciousness. Reveal the false identities that many choose to ignore or seldom reflect upon. And when these layers or false identities of the mind are removed, the truth of who you are will finally be realized! Awe inspiring to most intellectuals, Eric will also stunningly reveal the psyche of the collective earth-mind and demonstrate how this technique is actually not limited to mankind, but all beings, including the planet itself!
Understanding the material in Thought Reflection will allow you to enter higher bandwidths of dimensional frequencies that reveal the truth of your own destiny. Enter the 'GAIA MIND' and beyond! It provides information and technique that exceed beyond previous teachers. This is definitely an advanced workshop and considered very potent!
"Remove the layers of false identity, only then will you truly meet yourself!" -Eric Pepin
A few comments from users of Thought Reflection
"After twenty-two years of meditating and teaching Advanced Metaphysics, I have never been so inspired in my life!" Ruth V. - Olympia, WA
"Just when you think Eric can't take you any higher, he out does himself! He undeniably proves he is a master teacher!" Austin L. - Stockton, CA
"I was literally transported to another reality! I now know how to plug in! This is inconceivable!" Michelle F. - Aurora, CO
"I never realized how life could be so incredible! It feels as though my life is unfolding like a movie!" Thomas D. - Scottsdale, AZ
"Those of you who have experienced Eric before won't be surprised by this expansion module, those that haven't, hang on, tightly!" Brian S. - Newport, CA
...OR...
Take Advantage Of The Super Saver Core II Package Discount
...OR...
Own the Entire Collection of Higher Balance Core I thru VII Modules
Prana Mindfulness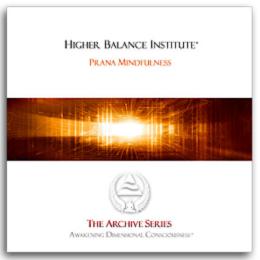 The Endless Ocean of Prana Energy!
"Probably the most overlooked, yet critically important information you will ever need." -Eric Pepin
There is a source of Energy that can profoundly deepen and expand your Mystical State.
Harness this vast ocean of energy for Exponential Growth! Avoid the Dramatic Peaks and Valleys in your development and walk away the Victor..
"All masters at some point in awakening realized that there were vast oceans of energies all around us. They learned to harness this power and very carefully project it into this reality as miracles!" -Eric Pepin
In Prana Mindfulness you will learn pivotal secret techniques that keep you moving forward to your fullest potential!
Just a sample of the techniques in this course:
How to draw out and harness Prana energy from simple water
How prana energy applies to deep healing and spiritual experiences
The critical importance of real mindfulness
The Mystical connection of Symbols (Cross, Ohm, Ying & Yang etc.) with prana
"Prana is a critical key to awakening. Do not underestimate it. It is the dimensional fuel that breaks you free from the gravitational hold of the 'DO' consciousness. Without prana energy you are lost." -Eric Pepin
By learning and understanding the hidden truths that are finally revealed in this course you will yield permanent breakthroughs in your growth as the spiritual masters of history did before you.
Topics discussed include:
Understanding what God "Is"
The Akashic Records (Further Details)
Learn methods on how to actually interact in other dimensions (The In-Between)
Prana and your intent "Critical information"
Exercising your responsibilities "Doing what you need to do"
"Prana Mindfulness was and still remains the most unbelievable experience. I've been a participant with Higher Balance since December of 2004. After my 30th birthday. I made a promise to myself to seek out my spirituality tirelessly. In that time I've learned to live my life around my spirituality. Prana Mindfulness has taught me how to train my mind by acknowledging prana using very simple techniques. It's reinforced my foundation and raised my tonal, opening me up to new experiences." -Hallie W. Dallas TX
"You must learn what prana is in order to be conscious of it."
People agree that when Eric teaches they experience a wide array of information being transmitted to them. It's as if his voice is coded with layers of information affecting their conscious and unconscious mind.
"Prana Mindfulness has left a very lasting impression on me. I've listened to this course about three times now. Every time has been full of surprises learning new realizations. I swear the second time around I listened to Prana Mindfulness some of the information didn't exist the first time around." -Neal E. Sydney Australia
Eric reveals what it means to be mindful of the force. Learn to acknowledge prana and let it transform your life. Start using these secrets today!
"In the end it's all about energy." - EJP
...OR...
Take Advantage Of The Super Saver Core II Package Discount
...OR...
Own the Entire Collection of Higher Balance Core I thru VII Modules
Mind Touch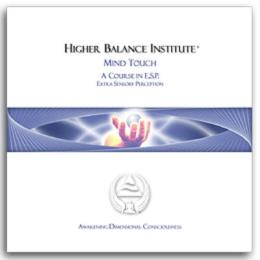 Have you ever wondered if it is really possible to see the future or read another persons mind? How is it possible? If it is, could you do it yourself?
ESP - Telepathy - Psychic Development
More than twenty years of experience goes into this short and very enlightening course. It covers the method of psychometry used by Eric Pepin in a first time exclusive release.
In an open forum with students, Eric brilliantly explains how he applies the ability of psychometry. Psychometry is the ability to gain insights or even predict a person's future by simply holding specific objects they own.
In mesmerizing detail, Eric explains why people fail in developing this skill; why some people are more difficult than others to access; what objects are best to use; how to process information through your mind in order to attain the best accuracy and why communication is critical. The ultimate secret of how to develop this ability is given step by step!
Furthermore, Eric will reveal what "Psychic Scanning" is and how to "Scan" in great detail. As this ability is generally associated with telepathy, this course will provide an incredible yet realistic compilation of its real potential and gives a sure fire, step by step technique to develop this skill yourself.
Considered the shortest of Eric's material, this course is packed with straight-forward information for those truly seeking states of higher consciousness and offers a treasure trove of techniques for paranormal experiences. Satisfaction Guaranteed.
As always, in a true Eric Pepin style, he will deliver a remarkable in-depth explanation to these paranormal areas that will keep any listener at the edge of their seat!
Considered fresh new information in the paranormal field!
*Classic Series: Mind Touch is a release from the Classic Series. This series is a compilation of audio material created by Eric Pepin over the last 15 years during Higher Balance's development. The audio quality of the Classic Series has been digitally re-mastered from the original analog recordings.
...OR...
Take Advantage Of The Super Saver Core II Package Discount
...OR...
Own the Entire Collection of Higher Balance Core I thru VII Modules
Akashic Records, A Dummy and You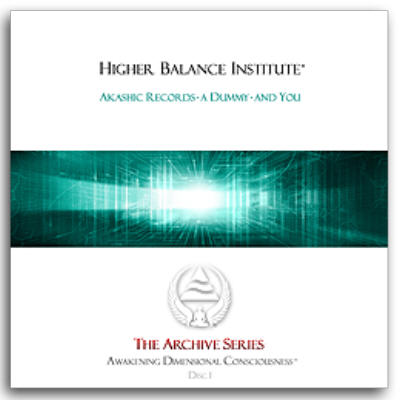 Your Inter-Dimensional Library Card to that Vast Storehouse of Cosmic Knowledge!
Ever received information and didn't know where it came from? Answered a question without thinking and found yourself dumbstruck by your own answer? If not, don't you wish you could?
"This is one of my favorite places to hang out." -Eric Pepin
How do people suddenly realize profound knowledge? Is it from Spirit Guides? Guardian Angels? Intuition? Not according to Eric.
Gain Access and Travel with Eric through The Doors of the Greatest Library this Earth has to offer and Indulge your self!
In this course you will find:
How Seemingly Normal People can Receive Profound Knowledge
What the Akashic Records actually are!
How the Akashic Records relate to you
Learn to Access and apply this information for yourself and others!
The Functioning Mechanisms in this Dimensional Universe revealed!
And so Much More!
"I had always heard of the Akashic Records but never really understood what exactly they were or how someone could gain access to them. I've read about them in all of my books, but nobody really gave me a leg up as to how or what they were. After listening to this course I wanted to get up and give Eric a great big hug! It was like this huge AH HAH! Just swept over me! I suddenly realized that I had actually been able to access the Akashic records in the past without even knowing that I had. This course really brought it all into perspective." - Larry H Baltimore, MD
Imagine walking into a room to see a small wooden puppet sitting in a chair. Now ask yourself what you would do if this empty mannequin lifted its head and began revealing secrets of the universe and long lost eternal truths!
Your journey begins with such a tale and in it a hidden backdoor will be revealed to the amazing place known as 'The Akashic Records'!
Lead yourself through Hair-raising accounts on the mechanics of the Akashic Records, and techniques that grant access!
"After I listened to this course I felt like I was given a huge key and gently pointed to a door, and a voice said, 'through there'. My mind was spinning afterwards for hours piecing everything together. I still don't know if I got it all but I'm getting ready to go and listen again! Just wanted to say thank you Eric for all of the knowledge you share!" - Abby K Kansas City, MO
...OR...
Take Advantage Of The Super Saver Core II Package Discount
...OR...
Own the Entire Collection of Higher Balance Core I thru VII Modules
The Optimist, Navigation and Children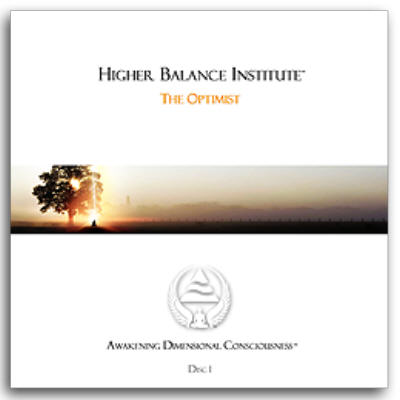 How can people with seemingly the same resources and opportunities reap such contrasting rewards? Do you have a tendency to see the glass half full or do you see it half empty? What is the root cause of pessimism?
Eric answers these questions and more. Listen in this course as you fully explore:
The secret of optimist thinking.
Learn to diagnose core causes of pessimism and discover how to vanquish them.
The role of happiness and its function as an energy flow.
Ways your perspective directly affects your growth
How much your biology influences your path.
How to utilize your biology and compromise for experience.
What it is to become a great teacher.
Powerful concepts to make a White Cell awaken.
Teaching the art of awareness to your children.
Techniques that will prepare your children for their own spiritual journey.
Plain spoken and to the point, Eric takes on topics that have been brought up by many Higher Balance participants. He will return with eye opening answers that will empower you to dramatically and positively impact your reality!
From an unfinished topic from Thought Reflection, He relates the difference between an optimistic and pessimistic person and how each viewpoint directly affects the outcome of their advances. Do you find yourself in either camp? Eric will show you how to correct your thinking with practical tools that empower you for real change.
He isn't going to stop there! Eric delivers a vivid projection of what truly marks a superb teacher which will inspire you to rise to the occasion and find what lies inside you to become just that.
Ever wonder if someone else has a biological advantage over you or if your own biology is keeping you from developing? Use this class as your scalpel and dissect exactly how much biology has an influence on your spiritual growth and life experience.
How will we teach the future generations so they will have the advantages they need? Learn techniques that you can teach your children to help open their minds up to experience a greater reality much earlier. The best part is that you don't have to just use these techniques with children, but you can use them for yourself!
Eric pulls from powerful personal experience and shares them with you to speed up your own awakening… And so you will share with others. This is a must have if you have ever felt a calling to teaching this knowledge to others or if you are currently raising a young White Cell!
This knowledge is living!
...OR...
Take Advantage Of The Super Saver Core II Package Discount
...OR...
Own the Entire Collection of Higher Balance Core I thru VII Modules
Deep Resonating Aums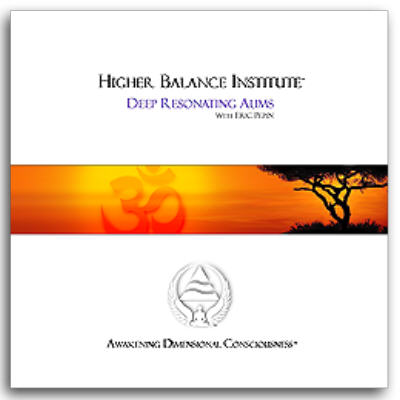 Embrace the sacred syllable and let it permeate through your environment and your deepest energies. A cosmic healing force is contained in your very own voice. The Aum is known as a primordial vibration that precedes creation itself. With this private chant session we invite you to join Eric in devotion to the Force. Then hang on tight, as it raises your vibratory tonal.
Working with Aums will resonate into all objects around you, effectively re-writing all undesirable environmental energy programming. Like a springboard of positivity. Use it to launch your spiritual work to new heights.
You will enter a "deep zone" as you follow Eric's vocal resonations. His energy or "middle pillar" will creates this for you. And like a tuning fork, and without effort, your own middle pillar will pick up on these powerful vibrations, and resonate as ONE with them. It will literally pull your spiritual essence forward. Something you must experience!
Deep Resonating Aums is split into two tracks. The first is 20 minutes in length. The second is 45 minutes in case you want to have an even deeper session.
This module will give you the opportunity to access a very special frequency in this dimension. Use it wisely and do not overly indulge it. Only two times a week is ideal!
...OR...
Take Advantage Of The Super Saver Core II Package Discount
...OR...
Own the Entire Collection of Higher Balance Core I thru VII Modules
Order The Entire Core II - 'The Secret Key'
Super Saver Package (7 modules in CD or digital download format) and Save $$$
Order 'The Secret Key' Hard Copy
At A Super Saver Package Discount
Hard Copy CD
$ave HUGE $$$ By Taking Advantage Of 'The Secret Key'
Core II Super Saver Packages
'The Secret Key' Hard Copy CD Version
You'll Receive The Entire Hard Copy Core II CD Collection
'The Secret Key' For Only...
$711.00 $347.00 + S&H
(Shipped Directly To Your Door)
---
Purchase With 100% Assurance and ZERO Risk
With Our No Hassle Return Policy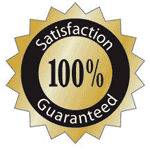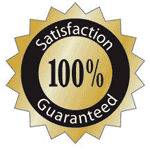 All Higher Balance Products Are Backed By A 100% Unconditional No Hassle, No Quibble Satisfaction Guarantee
'The Secret Key', like all Higher Balance Awakening Dimensional Consciousness modules and products comes with a 100% Unconditional Satisfaction Guarantee
We Proudly Stand Behind Our Core Expansion Modules With
A RISK FREE 30 Day 100% Money Back Guarantee.

Your Complete Satisfaction Is Our #1 Priority




---
Additional Higher Balance Institute Modules and Resources
---
I'm Finished With Higher Balance Core II : The Secret Key
Take Me To The Awakening Dimensional Consciousness Guided Meditation System

I'd Like To Know More About
The Higher Balance Institute

Take Me To The Higher Balance Quick Links Directory



Copyright © 2009-2014, The Higher Balance Core II article and all content on Abundance-and-Happiness.com is strictly prohibited from copy or reproduction in any form in whole or in part without the express written consent of the author and or Enlightened Journey Enterprises. All Rights Reserved Worldwide.
Each of the resources recommended in the Higher Balance Core II article and throughout Abundance-and-Happiness.com have been personally tested and approved by the founder as a credible and effective means of accomplishing it's intended purpose. Any and all guarantees are handled through the company that provides the resource.
End of Higher Balance Core II