Meditation Music - Valley Of Light
The Higher Balance Valley Of Light Meditation CD
Provides A Comfortable and Relaxing Atmosphere For Entering Into A Profound Meditation Experience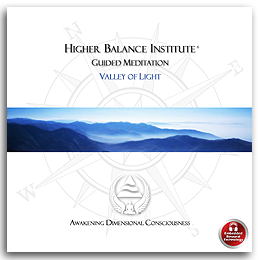 Valley Of Light Meditation CD
The Higher Balance Meditation Music, Valley Of Light meditation CD consists of instruments such as the Harp, voicestra pad, piano, strings, and percussion.
This combination creates soft and delicate ambiance that gradually gives you a sense of floating gently through time and space. It has a unique futuristic touch that builds towards an overall feel of ascending.
As with all Higher Balance meditation music, Valley Of Light is designed to build upon and enhance the Awakening Dimensional Consciousness Guided Meditation System
Projected experience from the Valley Of Light meditation CD: Pastoral and dynamic themes evoking moods of discovery, reflection and achievement.
Focus: Heart Center Chakra





All Higher Balance Products Are Backed By A 100% Unconditional No Hassle, No Quibble Satisfaction Guarantee
The Valley Of Light meditation music CD like all Higher Balance products
comes with an unconditional satisfaction guarantee
Order The Valley Of Light Meditation CD - $29.00
Go To Higher Balance Meditation Music CDs Index
Learn More About Higher Balance's Revolutionary Awakening Dimensional Consciousness Guided Meditation System
I'm Finished With Meditation Music - Valley Of Light
Take Me To The Abundance and Happiness Home Page

Site Map