The Higher Balance Institute
Leading The Way To Profound and Empowering Spiritual Awareness,
6th Sense Development and Ultimately "Completion"
"The Higher Balance Institute Is Awakening
The World One Mind At A Time"
There are those who are waiting on the world to change and those who understand the importance of doing something to assist with that change in a profoundly powerful way.
The Higher Balance Institute is one such company.
The Higher Balance Institute is without question the front runner of providing seekers of deeper understanding with an uncommon level of understanding, dramatically heightened awareness and all the spiritual development tools necessary for achieving elevated states of consciousness and dramatically enhanced awareness well beyond anything you may have previously thought or believed to be possible.
The primary focus of the Higher Balance Institute is to assist those with the desire to find it, an uncommon depth of understanding as well as the ability to achieve advanced levels of spiritual awareness through it's line of Spiritual Development products known as Awakening Dimensional Consciousness Core I through VII Spiritual Enhancement Modules.
Higher Balance Institute founder Eric Pepin, with more than 30 years of painstaking study, research, experience, practice, and refinement of his Awakening Dimensional Consciousness system, provides those seeking advanced spiritual development tools and techniques the pathway to tap into and access the highest levels of consciousness.
Thanks to Eric and the Higher Balance Institute, what used to be "perceived" as a distant and unreachable star somewhere out in the distance, is now easily accessible for those who are truly seeking answers to some of life's most sought after and seemingly unanswerable questions.
Higher Balance provides everything required to finally know and understand at the deepest levels, that those answers are and always have been available all along to those who are "truly seeking." Most just aren't aware and/or don't understand that the pathway exists and the simplicity of discovering them for themselves.
The answers do exist and The Higher Balance Institute walks you down the pathway to discovering them for yourself.
Through Higher Balance's line up of awareness enhancement and spiritual development products, anyone with a desire and willingness to do so can not only become aware, but discover, explore and personally experience elevated states of consciousness, enhanced awareness and dramatically enhanced 6th sense sensory in a way that no other company, teacher or system in the world can provide.
If you're seeking a deeper understanding, dramatically enhanced spiritual awareness and unparalleled personal and spiritual development resources as well as the ability to harness and begin consciously utilizing the power provided to you, The Higher Balance Institutes foundational program Awakening Dimensional Consciousness Guided Meditation System is the place to begin.
Higher Balance Institute's Core II through Core VII Expansion Modules
Each proceeding Higher balance Core package, Core II through VII is designed in such a way to further enhance awareness and builds on the previous module, building greater depths of understanding as well as provides clearly defined application procedures allowing you to expand your spiritual awareness to ever greater heights.
Should you decide that the Higher Balance Institute and the Awakening Dimensional Consciousness modules are a path that you choose to follow, rest assured that you'll be receiving timely, profound and the most advanced methods and techniques available anywhere in the world to assist you in achieving whatever hopes, dreams, goals and visions you might hold for yourself.
There is no other personal empowerment enterprise like the Higher Balance Institute and no other teacher that understands and/or is willing to share the depth of profound wisdom and insight that Higher Balance founder Eric Pepin can and does.


Core I - Awakening Dimensional Consciousness Guided Meditation System
Core I is the foundation of the Higher Balance Awakening Dimensional Consciousness spiritual development program.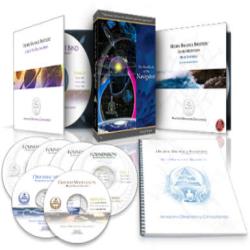 In this Core you'll gain an uncommon yet foundationally essential storehouse of knowledge, insight, wisdom and techniques that will guide you step by step toward developing your Dimensional Consciousness through a simple yet extremely profound and empowering meditation technique that will activate your Sixth Sense.
You'll also learn how to consciously and consistently feed and enhance your energy body with prana energy. It also covers one the most important practices of the entire Higher Balance program – Multi-Dimensional Meditation. The Higher Balance Awakening Dimensional Consciousness Guided Meditation System serves as the catalyst that will dramatically enhance your awareness and have you well on the way to achieving self mastery.
For those that choose to progress further down the spiritual development path, the Awakening Dimensional Consciousness Guided Meditation System meditation System provides an unshakable foundation to build upon. It also provides you with the ability to achieve success with any of the other Core programs and/or any other spiritual or mental practice you might choose at some point in the future.
It will enhance both your awareness and your experience of yourself exponentially as a spiritual being. The Awakening Dimensional Consciousness Guided Meditation System material provides the direction, the methods and the step by step guidance that enables you to cultivate and harness energy that you can direct towards experiencing profound states of consciousness, an awakening and ultimately an indescribable sense of "Completion" that remains with you and will benefit you for the rest of your life.


The Higher Balance Institutes Core II The Secret Key provides you with the knowledge to fully activate and utilize the Sixth Sense. The sixth sense is a forgotten, hidden key lying dormant within every human. This often overlooked and all but forgotten sense enables students of deeper understanding to bridge the "perceived" gap from the organic brain to the dimensional mind.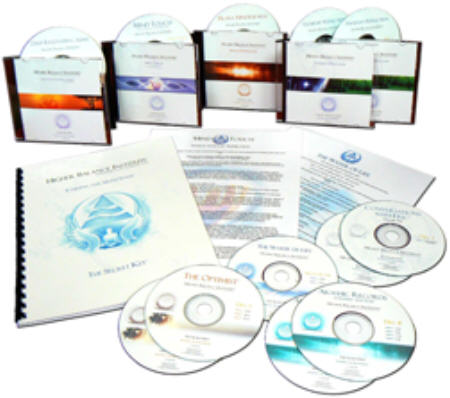 Awakening and pursuing the use of the sixth sense is discouraged by traditional practices yet it's importance is clearly evident based on the teachings of the ALL the ancient yogi's and spiritual masters.
The activation of your Sixth Sense sensory is the tool that you will use to navigate into awakening. A place far beyond what you can touch with your hands or see with your eyes. The information and techniques offered in Core II, The Secret Key are designed and specifically tailored to enhance your understanding and experience of energy, the multi-dimensional aspect of mind and, most importantly, the Sixth Sense.
You'll discover what role the organic physical brain plays in limiting the Sixth Sense and how the Sixth Sense can be used in a waking "shifted" state outside of meditation.
You'll gain effective methods and little known techniques that you can begin using immediately to start overcoming your "governor" through learning the subtle art of mindfulness through thought reflection as well as begin navigating through your thoughts, consciously, purposefully and intentionally with stunning and almost mind blowing results.
You will personally experience and be able to easily identify many levels of energy and know how they relate to your levels of consciousness. You'll also discover new applications of the Sixth Sense including accessing a larger memory beyond your own, the Akashic Records.
Core II, The Secret Key transcends far beyond common knowledge and understanding and will open doors of profound awareness that you may have not previously conceived were there for you to open. Oh but they are and the experience will change your understanding and your results exponentially should you choose to apply what you discover.




Core III - Phoenix Rising : Living In Fluidity
Core IV - Mind Mechanix : Beyond The Brain
Core V - The Unknown Door : Exploring Dimensional Consciousness
Core VI - The Navigator : Revealing The Master
Core VII - Circle Of The Masters
Higher Balance Meditation Music
I'm Finished With The Higher Balance Institute
Take Me To The Abundance and Happiness Home Page

Site Map



Copyright © 2009-2014, The Higher Balance Institute article and all content throughout Abundance-and-Happiness.com is strictly prohibited from copy or reproduction in any form, in whole or in part without the express written consent of the author and or Enlightened Journey Enterprises. All Rights Reserved Worldwide.
Each of the resources recommended in the Higher Balance Institute article and throughout Abundance-and-Happiness.com have been personally tested and approved by Enlightened Journey Founder, Chuck Danes, as a credible and effective means of accomplishing it's intended purpose. Any and all guarantees are handled through the Higher Balance Institute who provides each of the Awakening Dimensional Consciousness resources.
End of Higher Balance Institute