The Awakening Dimensional Consciousness Guided Meditation Technique and System Components
The Awakening Dimensional Consciousness Guided Meditation System Contains Much More Than A Meditation Technique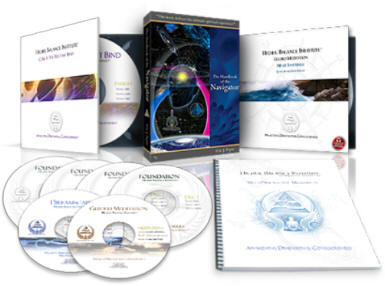 The Higher Balance guided meditation system components provide MUCH MORE than simple relaxation and stress reduction methodologies.
Unlike most meditation techniques and systems taught today, the Awakening Dimensional Consciousness Guided Meditation System provides a meditation technique as well as an in depth understanding of a number of topics relating to awakening and completion that no other meditation technique or system can or does provide.
In fact, The Awakening Dimensional Consciousness Guided Meditation System picks up where most leave off and enables you to experience "profound" states of awareness in days rather than years of toil and discipline.
There are a number of satisfied users who utilized various forms of other meditation techniques for 20 years or more who excitedly explain how after only a few days of utilizing The Awakening Dimensional Consciousness Guided Meditation technique, applying what Eric teaches, experienced far greater results.
The Awakening Dimensional Consciousness Guided Meditation System is the only one of it's kind and by far exceeds the benefits of any other meditation technique or system offered today.


Let's look at the guided meditation system components that makes the Higher Balance Institutes guided meditation system so unique...


Here's What You Receive In The Awakening Dimensional Consciousness Guided Meditation System...
The Foundation 4 CD Pack
Guided Meditation CD
Dreamscape CD
The Ties That Bind CD
Mind Sanctuary CD
Alisone CD
Conversations With Eric Pepin CD
Companion Materials
FREE Lifetime Customer Support
FREE Lifetime Replacement
"Allow me to briefly go over the individual modules of the Core 1 Awakening Dimensional Consciousness Guided Meditation materials with you."





Contents Of The Core 1 Awakening Dimensional Consciousness Guided Meditation System
The first portion of the Core 1 Awakening Dimensional Consciousness Guided Meditation System components is......
The Foundation 4 CD Pack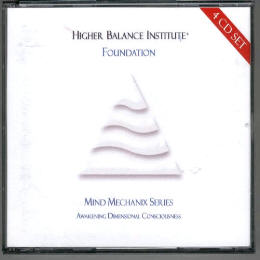 The first and perhaps one of the most important of the guided meditation system components is called "The Foundation." In the 4 CDs that comprise "The Foundation" Higher Balance Institute founder, Eric Pepin will provide you with an in depth understanding of many things concerning the history of meditation, why meditation in general is so important, what makes the Higher Balance guided meditation technique so powerful, how your mind functions, facts concerning energy, etc.
It is in this portion of the guided meditation system that you will learn and discover, on an intellectual level, the basic functions and operation of the meditation process as well as a deep understanding of why and how a sixth sense meditation can and does provide the many benefits that it does. The Foundation will provide you with the fundamental knowledge, philosophy, and core techniques that will enable you to achieve deep, extremely productive and profound states of meditation.
In addition Eric Pepin will introduce to you what are commonly referred to as "Power Points" within and throughout your body, or what is referred to as Chakras. You will discover where these Power Points or Chakras are as well as how to properly utilize them to receive maximum benefit throughout the guided meditation process.
At the conclusion of "The Foundation" portion of the program you will have a much deeper understanding regarding the Universe as a whole and how it operates as well as your individual and crucial role in it.
The material contained within "The Foundation" and the depth of understanding derived from it will allow you to develop the necessary intellectual understanding which will enable you to experience deep and profound meditation sessions unlike any you have previously experienced as Eric Pepin leads you through the guided meditation components of the system later on.
You will more than likely wish to listen to "The Foundation" more than once, and I would encourage you to do so. The information contained within it is so enlightening and profound that it will more than likely prove to be new to you. Each time you listen you will gain a new and deeper knowledge that you may not have previously picked up on. Don't be concerned with becoming bored, I can assure you that what I will be sharing will keep you on the edge of your seat, eager and hungry to discover more.
When you have finished listening to the Foundation CDs which make up a part of the educational portion of the guided meditation system components, you will have developed a sense of awe, awareness and a "Knowing" that you had not previously experienced. This is truly a mind bending, exciting, enlightening and life changing education.
After listening to and absorbing all that The Foundation offers it will become very evident to you that.....
This IS Precisely The Information That You Have Been Seeking!
"Since I have been using the Guided Meditation, I have experienced the following: Noticing things I hadn't observed before; clearer thinking, problem resolution; better concentration while reading, playing music; feelings of calmness, euphoria (almost pass out) during [one technique]; better intuition, more "in-time" with others." -- Jorge R. Los Fresnos, TX
The Next Portion Of The Core 1 Awakening Dimensional Consciousness Guided Meditation System components is known as.....
Dreamscape CD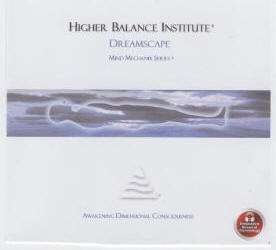 The "Dreamscape" CD which is another very important and intricate part of the guided meditation system components and will serve to
greatly enhance
your meditation experience. Dreamscape is comprised of a combination of hypnosis, incredibly relaxing music, and binaural technology. While listening to the Dreamscape CD you will experience what I refer to as a "Dream State" but will remain very much awake and alert.
Through the use of "Dreamscape" you will experience a very powerful and relaxing release process both physically as well as emotionally that will greatly assist you in reducing stress, anxiety, and fear and as a result will assist you in reducing the continuous mindless chatter going on in your mind which Eric Pepin often refers to as "The Babbler." As a result of this inner quieting, you will become empowered to experience deep and profoundly enlightening meditative states. During the Dreamscape sessions you will discover that issues that you hold onto both consciously as well as unconsciously will emerge allowing you to effectively and with very little effort, release them.
The Dreamscape CD will prove to be a very pleasant and relaxing experience as well as a helpful and powerful tool that will greatly assist you and accelerate you through the process of "Awakening."


The Core 1 Awakening Dimensional Consciousness
Guided Meditation CD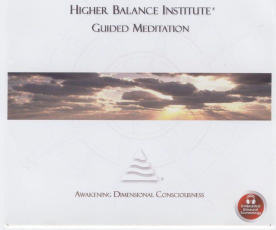 This portion of the program will allow you to transcend far beyond the intellectual understanding of what you will learn and allow you to achieve a "first hand experience" of what was covered in the foundational education. Although, after listening to The Foundation CDs, you may have the intellectual understanding, nothing can compare to actually experiencing the results of the guided meditation for yourself. Once experienced you will discover as I have told you that attempting to describe with words simply cannot accurately convey the "Total Immersion Experience."
The third portion of the guided meditation system components consists of a single CD which consists of three sections or tracks. The first of these three sections is 20 minutes in length and consists of the guided meditation portion. Eric will be instructing you as your "personal meditation coach" walking you through the exact steps to take and the proper techniques to follow as you progress through the session so that you will experience the best possible outcome.
The guided meditation portion of the CD consists of a combination of verbal guidance, multi-layered brain synchronization technology, and music that is designed to effect and balance the brains emotional centers.
It is through the use of this guided meditation portion of the CD that you will learn precisely how to meditate effectively and in a way that will provide the results that you are seeking as well as allow you to quickly and effortlessly experience the breakthroughs I have mentioned in only 20 minutes per session.
Due to the state of the art technology utilized, combined with the specific meditation technique I will guide you through, a mere 20 minutes using the Higher Balance Foundation guided meditation system will provide equal and in many cases much greater results than weeks of engaging in conventional meditation systems.
The second track of the Higher Balance guided meditation system CD consists of the same technology as in the first track with the exception of Eric's verbal direction and guidance. This portion of the CD is also 20 minutes in length and can be used once you feel more comfortable and confident that you are properly engaging yourself and performing the meditation technique correctly.
The third section of the guided meditation CD consists of a 30 minute unguided session which the more advanced users prefer.
Through continued and consistent use of this guided meditation system you will in essence create a dimensional gateway designed to effectively and powerfully awaken you to who and what you truly are and have always secretly known. It will allow and enable you to personally experience and finally grasp the TRUE meaning and essence of the Infinite.
You will possess a far greater depth of understanding as to what "True Surrender" really means. You will begin to fully understand what it means to trust without conditional boundaries and perhaps the greatest benefit of all is that it will give you a taste of "Unconditional Love." You will finally experience what it means to "Awaken." You will finally experience what it means to reach and experience "Completion." Your world as you currently perceive it will NEVER be the same.


Alisone CD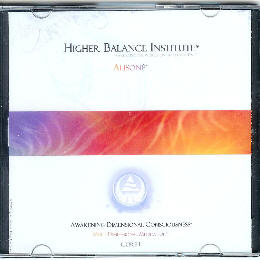 The fourth portion of the guided meditation system components is titled 'Alisone.'
Alisone provides you with a profound understanding of the true nature and essence of "The One." We all have our own interpretations and perceptions as to what God is. Alisone provides a depth of understanding that enables you to grasp the profound and indescribable nature of Source regardless of what your individually established perceptions and beliefs might be. It is not conflicting with any belief but rather enhances any perceptions currently held.
You'll clearly understand the true essence of God and be provided with an immense awakening that will enable you to move one step closer to a profoundly close and personal relationship that we all seek.
You'll also discover what's necessary to tap into and experience the completion that so may seek yet so few find traveling the paths that we have been taught are necessary to arrive there.
You'll discover the role that the sixth sense plays in fully experiencing the unseen spiritual realm and why it is necessary to consciously utilize it in a way that enables you to transcend the limitations of the 5 physical senses to experience the awakening and completion that is and always has been available to any who truly seek it.
Alisone provides a depth of understanding that can only be experienced by hearing it for yourself.
It provides an essential and key aspect of fully Awakening.


Mind Sanctuary CD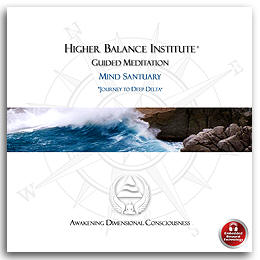 As we all know in this age, there are moments in life when a person simply needs to withdraw and gather their inner strength. Even the strongest of us still need a place to gather ourselves to prepare for a long journey. A place of sanctuary for the mind and spirit. Understanding this need, Eric has created "Journey to Deep Delta" and it will take you to that sanctuary for your mind. After experiencing many other similar products, thoughtful consideration was taken of all their positive and negative qualities, and a masterpiece was created!
Documented research indicates the deepest state of sleep attainable occurs during the Delta brainwave state. The Embedded Binaural Technology we designed for this soundtrack will take you down to that 'deep delta' state. It will calm even the most persistent mental chatter into deep meditation.
This soundtrack is also designed to help with DEEP RELAXATION and DEEP SLEEP. You are guaranteed to achieve both. This material was not specifically designed for paranormal experiences but if you decide to practice the techniques from the Higher Balance meditation system you will get interesting results. If you just want to have a deeply relaxing moment, grab a pillow and enjoy the Journey!
This soundtrack was created as a 'power tool' for those who need it. Rest is a critical part in emotional and biological development. With those areas balanced, it is much easier achieving creative flow, heightened focus, effortless multitasking, and stabilizing higher states of consciousness!
As you put on headphones and relax into a comfortable position you will hear a voice prepare you. Your mind will then be immersed in deep delta waves. The brain will then respond by releasing relaxing endorphins. As you start the descent to Delta, soft ocean waves begin to relax over you. Your journey has begun. Your brain will then require stimulation in variables of 10-20 seconds. That is when new frequencies will be introduced and a new pallet of sounds such as whales, rain, wind, ting-shaws, singing bowls, and wind chimes are assembled that create a scenario that feels like a sanctuary for the mind. Feel free to fall asleep and gain the rewards of a deep night's rest reminiscent to childhood. Enjoy.
Benefits: Clarity of Mind, Emotional Balance, Inner Strength, Improved Physical Stamina, and much more!
Use this CD only as needed. Do not use while operating a vehicle or in circumstances that may require quick responses of any type. We mean this literally!


The Ties That Bind CD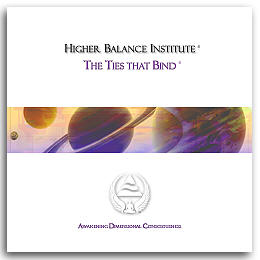 The Ties That Bind provides some incredibly powerful insight with regard to you and your relationship to energy, or what Higher Balance Institute founder, Eric Pepin refers to as "Prana."
The wisdom and insight provided is far too extensive to provide exact detail but here's a brief overview of what The Ties That Bind will assist you in both understanding and achieving...
Experiencing & Controlling Frequencies of Energy
Highly informative and packed with powerful techniques!
Actual information you can apply now and experience immediately!
Remove deep rooted negative energies that affect you Mentally, Spiritually & Physically…
Program your environment with positive frequencies that people respond to…
Empower your home, office, or business with instant positive results!
The Ties that Bind will teach you why different environments have particular feelings and how they manipulate your emotional and thinking processes. In most cases, they can cause depression, anxiety, insomnia, social anxiety, etc. Furthermore, you will learn powerful techniques to easily alter these frequencies and reprogram them for your desired effect.
Many people are seriously impacted by these hidden and unknown frequencies on a daily basis!
You will learn how to easily transform depressive energy environments into positive healing and uplifting environments.
These frequencies affect an expansive range of areas beyond what I've mentioned here. Further details will be given within the Ties That Bind.


Core 1 Awakening Dimensional Consciousness Workbook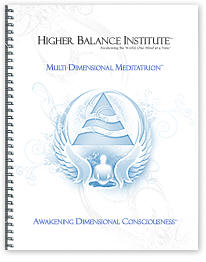 This comprehensive guide allows you to work with the material found in Core 1: Awakening Dimensional Consciousness in a streamlined manner. The Workbook will help you navigate through the material and offers a variety of insights and exercises that tie the material together. With nearly 80 pages worth of invaluable information, you will not want to neglect this vital piece of knowledge.
All of the information you find in the Core 1: Awakening Dimensional Consciousness Workbook, is compiled from knowledge and techniques that Eric and the Higher Balance Instructors found to be the most impactful upon students' growth. Whether you are just starting with the Core Program or have been working with the Higher Balance material for a while, you will not want to leave this out of your library.
One thing is certain...There is quite literally NOTHING available in meditation techniques or meditation systems that can compare to the Awakening Dimensional Consciousness Guided Meditation System.



Unlimited and Personalized Customer Support
As part of your Foundation - Awakening Dimensional Consciousness Guided Meditation System, you'll also receive courteous and unlimited support through Higher Balance's knowledgeable support staff. Should you have any questions regarding the meditation techniques, your meditation experience or require any assistance whatsoever you'll find the Higher Balance support staff to be extremely pleasant and more than helpful. Each member of the Higher Balance Institutes support staff personally utilizes the Awakening Dimensional Consciousness Guided Meditation System and are well versed in processes, procedures and understanding of the material that Eric Pepin teaches in the guided meditation system. In addition, there is no limit to the amount of help you can receive.


"The different support folks I've talked with now and then are so very helpful and a delight to talk with. I have to prevent myself from calling without a legitimate reason because it is a treat. Blessings on you for providing this." -- Maribel T. Rossville, GA
Now that you're familiar with the Higher Balance Guided Meditation System components, let's look at what kind of results you can expect to experience through choosing Higher Balance's Awakening Dimensional Consciousness system.
Or...
Click Here To Proceed
To Quick Checkout

Eric Pepin I Benefits I Difference I Results I Testimonials I Support I Expansion Modules I Order Guided Meditation
Copyright © 2006-2014 Abundance-and-Happiness.com and Enlightened Journey Enterprises. The Awakening Dimensional Consciousness Guided Meditation System Components Article and all content on Abundance-and-Happiness.com is copyright protected by International copyright law and strictly prohibited from copy or reproduction in whole or in part. All Rights Reserved Worldwide.
The Awakening Dimensional Consciousness Guided Meditation System Components and all products recommended through Abundance-and-Happiness.com has been personally tested and approved by the founder as a credible and effective means of accomplishing it's intended purpose.



End of Awakening Dimensional Consciousness Guided Meditation System Components